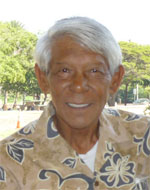 Hawaiian Artist Reuben b,
Kohala Artist
CONTACT US AT
comments@iakamai.com

No other art compares to the collection of The Hawaiian Art of Kohala by native born Big Island artist, Reuben Luke Bumanglag.
Drawn and guided by a kama`aina heart, his work displays the keen nature of Kohala's rich Hawaiian history and culture, as well as places once accessible by kama`aina for centuries. Many of such places are no longer open as "free access" or have since been destroyed or neglected.
His Hawaiian work will be remembered and cherished long after the tides of change consume the places he has preserved for all of us through his art work.
ABOUT THE ARTIST
Introduction - Any artist from anywhere can paint Hawai`i's beauty and call it "Hawaiian art." However, only a handful of artists are able to capture the essence, consciousness, and beauty of Hawai`i's Big Island through his/her Hawaiian experience from the land upward. In other words, to be "local" to the Big Island is to have lived the Hawaiian experience first hand since birth. Only then, through such experiences, true Hawaiian Art is born. Reuben b is such a person. He was born, raised, and still lives on the Big Island of Hawai`i.
His Work - Hawaiian Original Oils, Acrylic, Watercolor Paintings and Hawaiian Art Prints - Those who are looking for a Hawaiian art form from a local Big Island artist will find his art historical, relevant, and special. His depiction of coastal life reflects relationships with nature, people, and time. His Hawaiian art is engaging, colorful, and in many ways prophetic. It's Hawaiian art from the heart, restoring to consciousness a realization that Kohala's beauty and access to open spaces are being challenged like never before. His Art Of Kohala captures what some day may never be.
Reuben's first public Hawaiian art show was in 1981 at Waipio Woodworks. Over 30 Hawaiian paintings were purchased by Hawaiian art enthusiasts. Today, Hawaiian art collectors continue to seek his work for which the artist says "I am very thankful."
His Hawaiian art watercolors are as powerful as his Original Hawaiian oils and acrylics. His art documents many of the Kohala Hawaiian landmarks, some of which are no longer standing or not accessible due to industrial development, urbanization, political arrogance, or neglect.
His Life - Reuben Bumanglag was born in November 1942 and was christened Reuben Luke Bumanglag. As a youngster, he was raised in the small sugar plantation town of Hakalau. He later moved to the Kohala plantation town of Kapa`au where he raised his family and took up painting. The sugar mills have since closed and passed into time like many of the others that dotted the Big Island. However, the memories and images of growing up in such an environment continue to guide his sense of visual expression. He says he is "still making daily discoveries" and hopes "that it will bring not only pleasure, awareness, and Aloha toward others, but also inspire malama (care) and kuleana (responsibility) to our land."
COMMISSIONED ART
Building a new home? Or, decorating a newly renovated dwelling? Occasionally, this artist will consider a series of Hawaiian art and paintings that can be created exclusively for your home. For example, if there is a particular Hawaiian scene you are not able to find "off the shelf," it is possible that this artist can be commissioned to create it for you... authentically and originally! Contact us for more information by clicking the "Contact Us" link at left..
A PREVIEW OF SELECT ART FROM THE ART OF KOHALA SERIES:
"Mele"
Collectible Hawaiian Art

"Ukulele and Instruments"
Collectible Hawaiian Art

"Kohala Horses"
Collectible Hawaiian Art

"Garden at Mauna Kea Beach Hotel"
Collectible Hawaiian Art

"Ikaika (Strength)"
Collectible Hawaiian Art

"Sea Path at Mauna Kea Beach Hotel"
Collectible Hawaiian Art

"Sacred Heart Catholic Church"
Collectible Hawaiian Art

"Hale Pule Church in Kohala"
Collectible Hawaiian Art

"Halaula Lighthouse"
Collectible Hawaiian Art

"Buddha Under Tree at Mauna Kea Beach Hotel"
Collectible Hawaiian Art

"Unnamed"
Collectible Hawaiian Art

"Crimson Orchids"
Collectible Hawaiian Art

"Saddle and Ukulele"
Collectible Hawaiian Art

"Kohala Carriage Depot"
Collectible Hawaiian Art

"Kahakai in Summer"
Collectible Hawaiian Art

"Unnamed"
Collectible Hawaiian Art

"Kohala Beach Hut"
Collectible Hawaiian Art

"Pathway to the Shore"
Collectible Hawaiian Art

"Mahukona"
Collectible Hawaiian Art

"Keokea Park"
Collectible Hawaiian Art